---
---
Our team of Ambassadors are passionate, purpose-driven people who share our deep need to create happiness. These extraordinary people help us share our purpose far and wide, spreading the word about buying better products for people and the planet, connect and inspire entrepreneurial & earth-conscious humans, and provide an outlet for those who are so much more than 9-5 Monday to Friday.
---
---
---
A happier way to earn income
We're strong believers that you get what you work for, not what you wish for. At Tiber, there are no ladders, no glass ceilings, just you vs. you
You can't pour from an empty cup; which is why we are such huge advocates for creating your own schedule. Prioritize and work in a way that works best for your lifestyle.
A community of inspiration
We all come from different places and have different destinations; Tiber is a platform for inspired and inspiring entrepreneurs to build each other up, motivate, and push each other, to connect over values, and shared sense of purpose.
Products that you can be happy about sharing
Our products are designed, made, and consumed with purpose. We create useful products, that work, to solve real problems for our customers. We choose ingredients that are safe for people and the planet. The experience we create for our customers is educated, elevated, and never boring!
A company culture built for happiness
Happiness is contagious, which is probably why it beams from every corner of our business. With happiness as our foundational purpose, it naturally trickles into everything we do, and attracts customers & team members that value happiness too!
We've got the products, the tools, and the people to support you!
---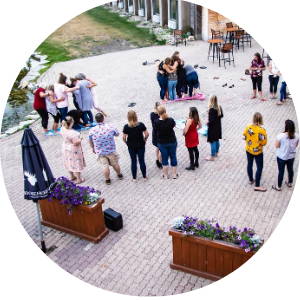 Earn 30% base commission on all your personal sales
A personal replicated website for your customers to shop on
Receive education and self development opportunities through Tiber
Earn free and discounted product
Marketing materials and support
Bonuses and incentive trips
---
Testimonials
What our ambassadors are saying about Tiber
"In my five years with this company I have grown so much. While our corporate team provides us business tools, I have found my own voice and have lots of fun creating my own peices and personal brand online. As well, things really started to grow and i began to build a team...."
Vanessa Caligiuri
"What made me decide to be an ambassador? Honestly, my mom told me I should do it, so I did! I had no idea what I was signing up for or getting myself into. I dived in head first, no idea what I was doing, but I am undeniably happy with my decision. My growth as an ambassador..."

Tiffany Ellison
"My first expereince with Tiber River was at an event being put on with Thrive Fitness, and Michelle Lalonde had set up a display. I loved the scents and products, but wasn't open to the opportunity. Allie DePaulo talked to me after, and I signed up right away because I trusted Allie and she told me...
Cindy Koltalo
Frequently Asked Questions
These are the most common inquires we receive and the most important infromation we think you should know
What does it cost to become a Tiber Ambassador?
When you sign up to become a Tiber River Ambassador we want you to be happy about your decision. Things like hidden fees and unexpected costs tend to do the exact opposite. To that end, we wanted to be completely transparent about what you will need to pay if you choose to sign up to become a Tiber Ambassador and have listed all of the required costs below. If you have any questions about any of these costs, please contact our Happiness Team.
First things first, the kit. This is purchased by you during the enrollment process online. We typically have a few different options to choose from depending on the level of investment you want to put in however, kits generally start at around $49.00. These are subject to change from time to time and vary depending on catalog season.
Next, we need a way to pay you the commission you will earn each month. In order for that to happen you need a Hyperwallet account. You will receive an email after your first commission payment prompting you to set this up and it will cost $10.95 USD. This is a fee paid annually, similar to banking fees, to Hyperwallet directly.
How does the compensation plan work?
The following is intended to provide an overview of the Tiber River compensation plan and help you understand how commissions are calculated at the various rank levels. If you have any questions, please contact our Happiness Team at customerservice@tiberriver.com.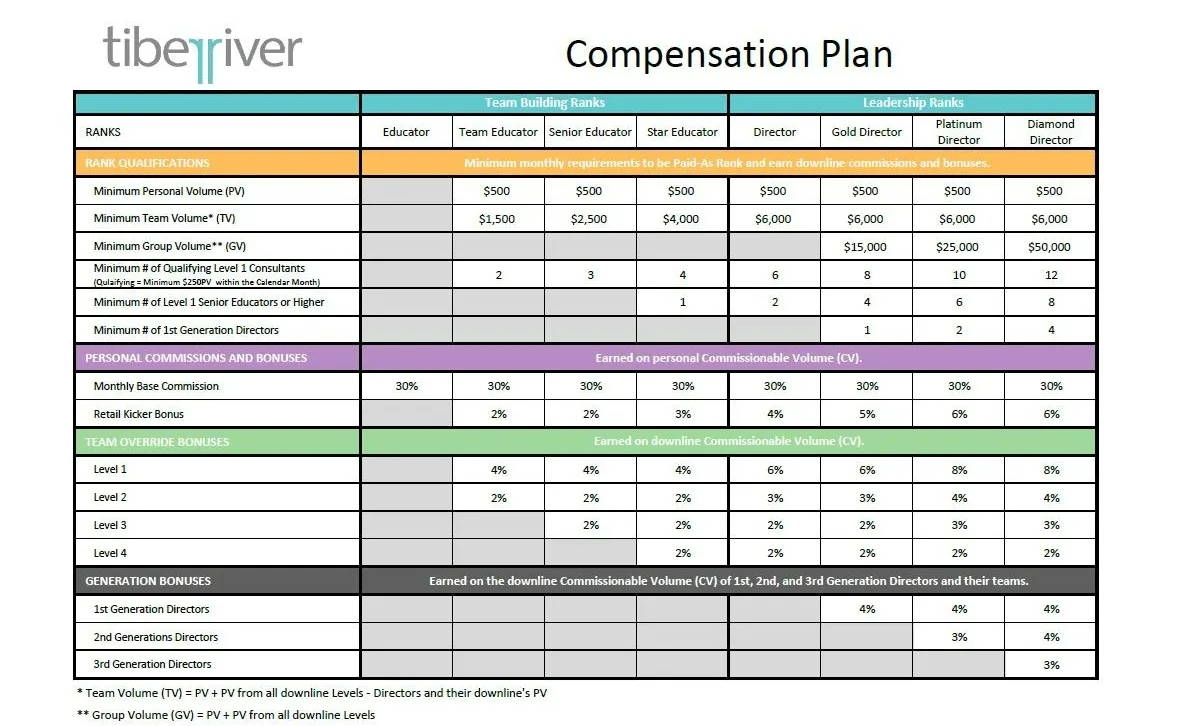 Is there a minimum amount of Tiber products that I need to sell?
Yes and no. You will earn a 30% commission on anything you sell regardless of the amount. However, in order to maintain an Active status as a Tiber Ambassador you need to sell at least $200.00 of Tiber products every four months.
Does Tiber have a 'fast start' program?
We do! We call it Tiber Trailblazers and it works like this:
As a Tiber Ambassador, do I receive any special discounts?
Generally the answer is no. As a Tiber Ambassador you will earn a 30% commission on everything you sell. This includes your personal purchases.
While we don't typically offer Ambassador special or discounted pricing, we do offer exclusive sneak peaks and access to products and materials available to our Tiber Ambassadors only through their own personal online shopping catalog.
When do I receive my commission payment?
We pay our Ambassadors commission monthly. Each year in December a payment calendar for the upcoming year is published in your back office. This calendar indicates when commission payments will be made in each of the following twelve months. Generally, commission payments are deposited into Ambassadors' Hyperwallet accounts within the first five business days of each month.
Can I join a Team Leader to help me get started?
You sure can!
We like the way you're thinking. No, really, you're on the right track! Learning from the best will help you kick your business off in the most spectacular way!
If you are interested in joining a leader please contact our Happiness Team at customerservice@tiberriver.com. We will connect you with a leader who is the right fit for you. Your Leader will help you learn about Tiber River and show you just start how to start your new business!
---